fter the game, Aaron Rodgers got on the bus. It was unusually cold in Arlington during the week leading up to Super Bowl XLV; a winter storm had barreled into Texas, blanketing Cowboys Stadium with so much snow that slabs of ice cascaded from the roof. When the game against the Steelers ended, the team was showered with confetti, then the players trudged down to the bus, where they sat for a while in the bowels of the stadium before heading back to their hotel. Someone brought the Vince Lombardi Trophy on board, and the players passed it around like a collection plate, each taking a moment to palm the sterling silver.
As his teammates chattered away, the quarterback sat and listened and thought about the plays he had made that night: three touchdowns, zero interceptions, 304 yards. The bus rolled along, and he ran it all back in his mind, then pressed rewind and visualized his entire career, retracing the steps he had taken from Chico, California, to Arlington, from beleaguered backup to Super Bowl MVP. As he reflected on the sacrifices and the slights, he wondered whether it was all worth it, and then he felt something unexpected — not regret or fulfillment but a different sensation, like a space had opened inside of him. He thought about life and football and everything he had invested in his sport, and a jarring realization sprang into his mind.
I hope I don't just do this.
---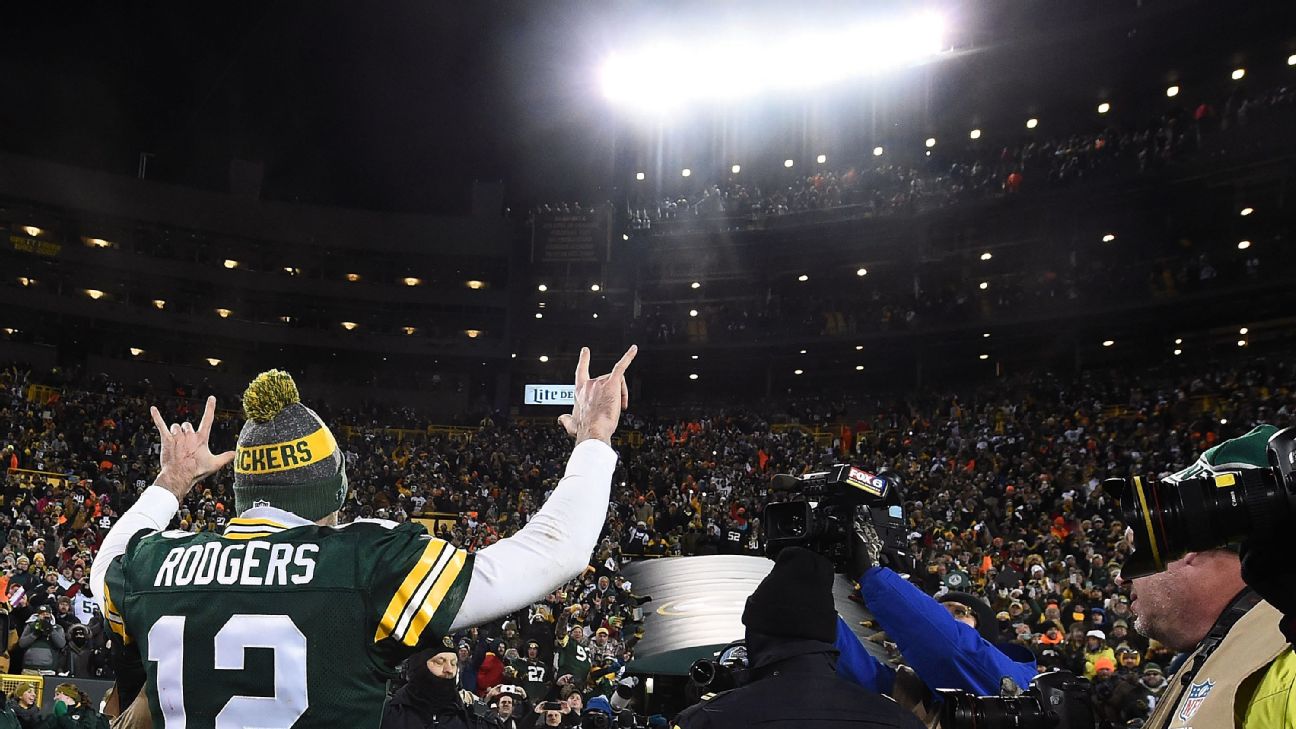 It's an oppressively warm afternoon in Los Angeles, and I'm sitting in my living room, looking at Rodgers looking at my stuff. The night before, his agent had sent me his phone number, suggesting that we meet at either his place or mine. A couple of hours later, Rodgers texted me and told me he'd come here. So now he's sitting a few feet away from me on my sofa in a black T-shirt and jeans, Stan Smiths tapping on the floor, his arm — maybe the most valuable arm in the world — resting on a throw pillow.
Typically, writers meet their subjects at a neutral location — somewhere a publicist has chosen to reveal something about the celebrity, like his taste in food or hobbies or charitable work. Exposition by way of description. But Rodgers wanted to meet here. When he sits down, he scans the room, his eyes flickering as he processes my books, my records, the dog toy I forgot to pick up before he arrived. He asks me whether I've read Under the Banner of Heaven: A Story of Violent Faith (I haven't) and whether the fuzzy white figurine on my mantel is an alpaca (it's a llama) and whether the berries sitting in a bowl on my coffee table are fresh (I have no idea, but I say yes). As he studies his surroundings, it occurs to me that when I write about this, I'll have to describe my things instead of his things, and I realize that's probably why we're here.
I set my phone on the table and press the record button. He pulls out his and does the same. So he won't be taken "out of context," he explains.
Rodgers is unusually cautious. This is evident whenever he opens his mouth. Before he speaks, he pauses, choosing his words like a surgeon plucking instruments from a table. Some of this comes with the territory — all-galaxy quarterback, face of a multibillion-dollar insurance company, vessel for an entire state's hopes and dreams — but it rarely feels calculated. Rodgers, 33, isn't studiously bland, like many of his elite brethren, and he isn't evasive either. He's just … cautious. Wary of being misunderstood or revealing too much. Over the years, as his celebrity exploded, he closed certain windows, sequestering his private life while he charmed the public with his dry wit and quirky hobbies. (He does crosswords! He likes Wes Anderson films!) He showed us everything and nothing at all. And for a while, that was enough.
But a few years ago, something shifted. As Rodgers kept himself swaddled in bubble wrap, others started to pound away: former teammates and anonymous sources who called him aloof, bloggers who reported on every development in his relationship with actress Olivia Munn. His name, once the province of the sports pages, started to appear with greater regularity in the tabloids, and last summer, when his younger brother, Jordan, revealed on The Bachelorette that Aaron no longer had a relationship with the family, those stories took on a new life. Throughout all of it, Rodgers said little. But the drumbeat of gossip and innuendo kept rising, and at some point, he realized his voice was lost in the noise.
So he's found himself here, on my sofa, popping probably-not-fresh berries into his mouth as the room fills with light. Over the course of a few hours, he talks about the windows he's slammed shut and the ones he's cracked open, and I ask him why he feels compelled to let in any air at all. He cocks an eyebrow. "Just a desire to be seen," he says. "Just to be understood a little bit more."
---
Rodgers' biography, now the stuff of NFL legend, is best summarized as a long list of slights: A scrawny kid becomes a talented high school quarterback but fails to attract any interest from Division I schools. After a year in junior college, he thrives at Cal and draws hype as a potential No. 1 pick — then plummets in the 2005 draft, sweating it out in a pinstriped suit as millions watch. He lands in Green Bay, where he spends three years as Brett Favre's understudy and is greeted by booing fans when he finally becomes the starter. Throughout his youth, Rodgers wore these indignities on his body like lashes, looking at the scars whenever he needed motivation.
Then he won the Super Bowl.
For years, Rodgers seemed convinced that the world didn't believe in him; then, in an instant, he'd produced irrefutable evidence that the world was wrong. The overlooked, undersized kid had made it to the mountaintop. But when the Packers' bus left Cowboys Stadium on that chilly night six years ago, he didn't feel like he had risen to a higher plane. Rather, he realized he was still looking for something — for a sense of clarity, or purpose — that was beyond his current line of sight. "It's natural to question some of the things that society defines as success," he says. "When you achieve that and there's not this rung — you know, another rung to climb up in this ladder — it's natural to be like, 'OK, now what?'"
I ask him where this search has led him, half expecting him to reveal some second act. Instead, he says he looked inward.
"I think in people's lives who grew up in some sort of organized religion, there really comes a time when you start to question things more," he says. "It happens for some at an early age; others, you know, maybe a little older. That happened to me six or seven years ago."
Like so many players in the NFL, Rodgers devoted much of his young life to those twin pillars of American culture: football and faith. As a boy growing up in Chico, he attended a nondenominational church with his parents, both devout Christians, and absorbed the religion's traditional tenets. And yet, even as he soaked up those lessons, there were aspects of dogma that left him dissatisfied. "I remember asking a question as a young person about somebody in a remote rainforest," he tells me. "Because the words that I got were: 'If you don't confess your sins, then you're going to hell.' And I said, 'What about the people who don't have a Bible readily accessible?'"
For years, these concerns nagged at him, especially as he met more people from other walks of life — teammates who grew up in different parts of the world, friends with different religious backgrounds. He started reading books that delved into alternate interpretations of theology. Then, not long after he became the starter in Green Bay in 2008, he met Rob Bell, a young pastor from Michigan whom the Packers invited to speak to the team. When the talk ended, Rodgers waited for the group to dissipate and then introduced himself to Bell, best known for his progressive views on Christianity. The two men struck up a friendship. Bell sent Rodgers books on everything from religion to art theory to quantum physics, and the quarterback gave him feedback on his writing. Over time, as he read more, Rodgers grew increasingly convinced that the beliefs he had internalized growing up were wrong, that spirituality could be far more inclusive and less literal than he had been taught. As an example, he points to Bell's research into the concept of hell. If you close-read the language in the Bible, Rodgers tells me, it's clear that the words are intended to evoke an analogy for man's separation from God. "It wasn't a fiery pit idea — that [concept] was handed down in the 1700s by the Puritans and influenced Western culture," he says.
"The Bible opens with a poem," he adds. "It's a beautiful piece of work, but it was never meant to be interpreted as I think some churches do." I ask him whether he still sees himself as a Christian, and he says he no longer identifies with any affiliation.
After Super Bowl XLV, Rodgers and Bell spent a lot of time talking about what he experienced on that bus — how he felt, or didn't feel, and his realization that absolute success on the field didn't make him completely content. It wasn't until he confronted his own "narrow-minded" views about the world and his place in it, he says, that he experienced a sense of the fulfillment he yearned for. "I think questions like that in your mind lead to really beautiful periods where you start to grow as a person," he says. "I think organized religion can have a mind-debilitating effect, because there is an exclusivity that can shut you out from being open to the world, to people, and energy, and love and acceptance.
"That wasn't really the way that I was, maybe the first 25 or 26 years of my life," Rodgers continues. "I was, you know, more black-and-white. This is what I believe in. And then at some point … you realize, I don't really know the answers to these questions."